Calla Lily, The Presidential Villa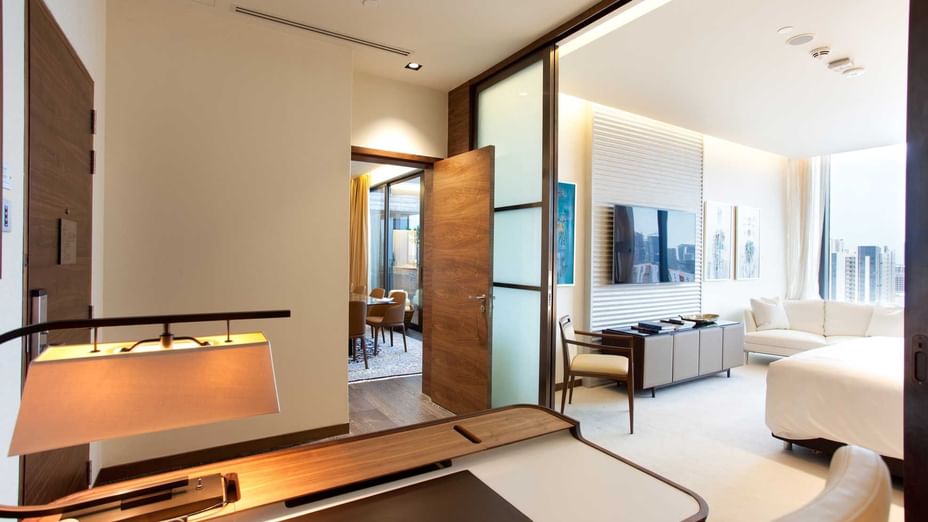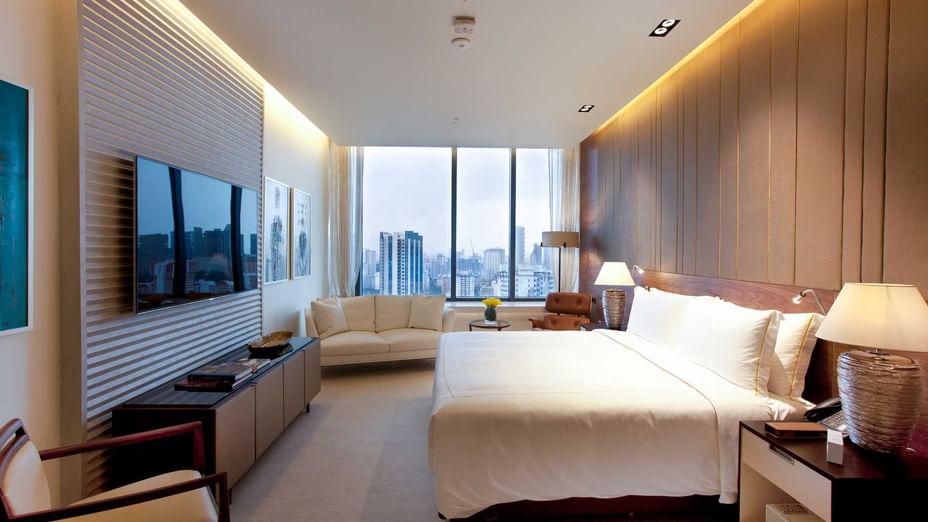 Enter into exceptional enchanted space, one that reflects the ideal creation of a "total lifestyle environment". A conceptualised experience that intuitively entertains and entwines the senses with a combination of the ancient, the classical, moving into the modern, to the contemporary worlds of ART. LIFESTYLE. ENVIRONMENT.
The sterling silverware is the Audubon design from 1871. The flowing designs of branches and twigs with leaves, buds, flowers and exotic birds were entirely different from anything in American silver at that time. Each piece of Audubon is decorated with intricate designs adapted from 19th century Japanese bird paintings, with eight species represented. The back of each piece has complementary designs derived from Japanese flowers.
The Persian Nain carpets were the first items selected for the Presidential Villa; together with the expansive view of the cityscape from the window, they dominate the living and dining rooms. Even the coffee table is transparent as so not to obstruct the view of the carpet. The few accents placed on the edges of the salon are specially selected to reflect the interests of one who collects for the pure enjoyment and sharing of knowledge, created by the introduction of different cultures and art influences into a harmonious whole. Two 12th and 13th century Khmer jars in unobtrusive brown glaze introduce the viewer to an era in Southeast Asia that tells the history of Indochina.
Sitting on the bar counter are conch shell-shaped bronze vessels. They are replicas of vessels used for ceremonial occasions in the Khmer Kingdom in the 12th century.
EXCLUSIVE FACILITIES FOR SKYLINE RESIDENTS
Exclusive access to the Skyline Lounge and Terrace at Level 18 from 7:00am to 10:00pm daily
Cooked to order complete breakfast from 7:00am to 10:30am
All day light refreshments and snacks
Evening cocktails with light dinner from 5:30pm to 8:00pm
Exclusive use of the Rooftop Swimming Pool on level 18
Exclusive use of Skyline 24/7 workout facilities on level 19
24-hour lifestyle concierge services
KEY FEATURES AND AMENITIES
Two bedroom villa with king-bedded configuration
Spacious living room
Furnished dining room
Exclusive study room with Herman Miller chairs
Complimentary wired and wireless high speed internet
65-inch smart television sets including HD cable channels in the living room and bedrooms
In-room Total Environment System
In-room media hub with international plug system and USB charging ports
Coffee and tea making facilities featuring TWG teas
Kitchenette & Pantry Area
Bath tub, overhead rain shower and hand held shower
'Perfect view' mirrors and a walk-in wardrobe
Personal walk-out balcony with outdoor terrace
Outdoor Shower
Personal Wine Cellar
Mood lighting, bedside lights, night lights and reading lights
Bedroom slippers
Frette linens and towels
Hairdryer
Complimentary local calls
Personal safe
Iron and ironing board